Lead Generation
I will do Real Estate lead generation using
 Fb Ads & Social Media Marketing
APPLY FOR A STRATEGY SESSION
How We Help
DiTech Squad is a social media marketing agency solely focused on Facebook, Instagram, YouTube, and Google ads.
We help businesses automate and control their customer growth by setting up advertisements and landing pages designed to convert targeted traffic into buyers.
What's the beauty of a system like this?
Once it's profitable at 2x, 3x, 4x ROI, you now have customers on demand.
Literally… By the click of a button.
Now actually doing this is the hard part. That's where we come in.
We can provide an ROI guarantee the marketing world has never before offered. If we don't bring you a predetermined number of leads, sales, appointments, etc. required to get you your return on investment. We will refund you 100% of our service costs.
Why? because we are THAT confident we will provide you ACTUAL results.
What's next? Apply to work with us, and if your brand fits our parameters we will schedule an appointment where we will discuss how we can set up a system like this for you
APPLY FOR A STRATEGY SESSION
Are you looking to generate leads for your 

Real Estate

 project? You are at the right place! 
Real estate marketing is not for everyone, the market has become highly competitive so you need to try different sources to generate leads for your business.
I will help you do the real estate lead generation for your project. With the help of Facebook ads, I will be helping you create creative ad campaign that will help you generate leads!
What's Included: I only do Facebook campaigns for real estate projects.
✔️ Strategy For Creative Lead Generation Campaign For Your Project/ Business
✔️ Creative Ad copy & Targeting The Right Facebook Audience
✔️ Promote Your Project To The Correct Buyer/ Seller Personas
✔️ Create Lead Generation Forms On Facebook To Collect Customer Details
✔️ Reduce Cost/ Lead To Make The Ad More Cost Effective
✔️ Seller Leads Focused Campaign
✔️ Campaign For Buyers/ Sellers
✔️ Build Your Real Estate Brand On Facebook 
✔️ Campaigns For Business Related To Real Estate

About Me
Hi, there! I'm Pralhad, Lead Generation Expert – DiTech Squad LLP
I love to call myself – 1 stop Digital Marketing shop for small businesses. 🚀 From Lead Generation, SEO, Social Media Marketing, Managing your AD Campaigns, PPC Ads, LinkedIn Advertising, Marketing Automation you name it. I can help you get the results you are looking for. This is 🏡 for Real Estate Professionals For All their Marketing Needs. 🙂 I love to work with Real Estate Agents and Investors to help them do Lead Generation Using ADs and Grow Digital Presence which eventually gets them more business. Proven strategies for real estate. Let's discuss how I can help you.
Clients Review ( ☆☆☆☆☆ 640 )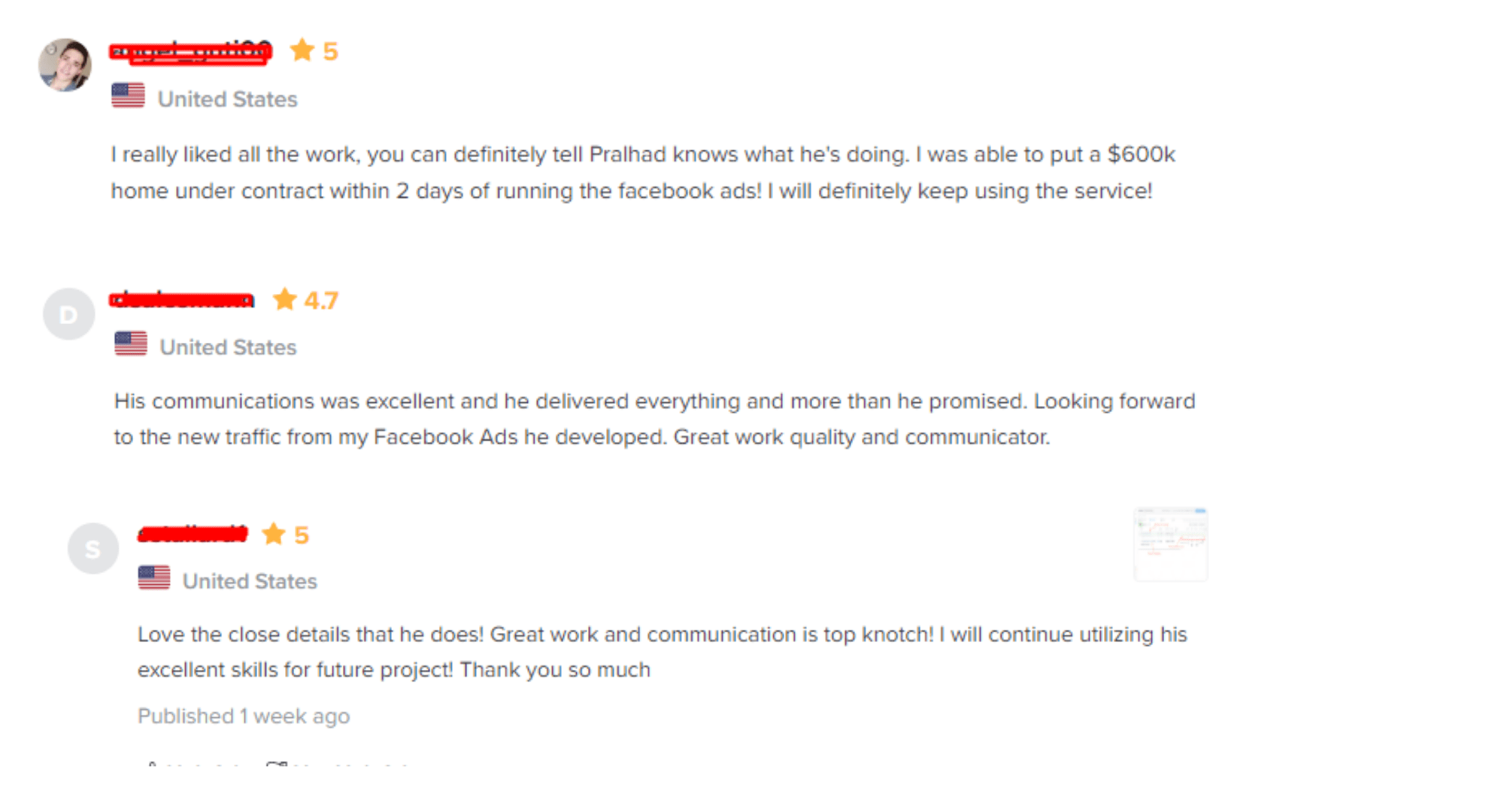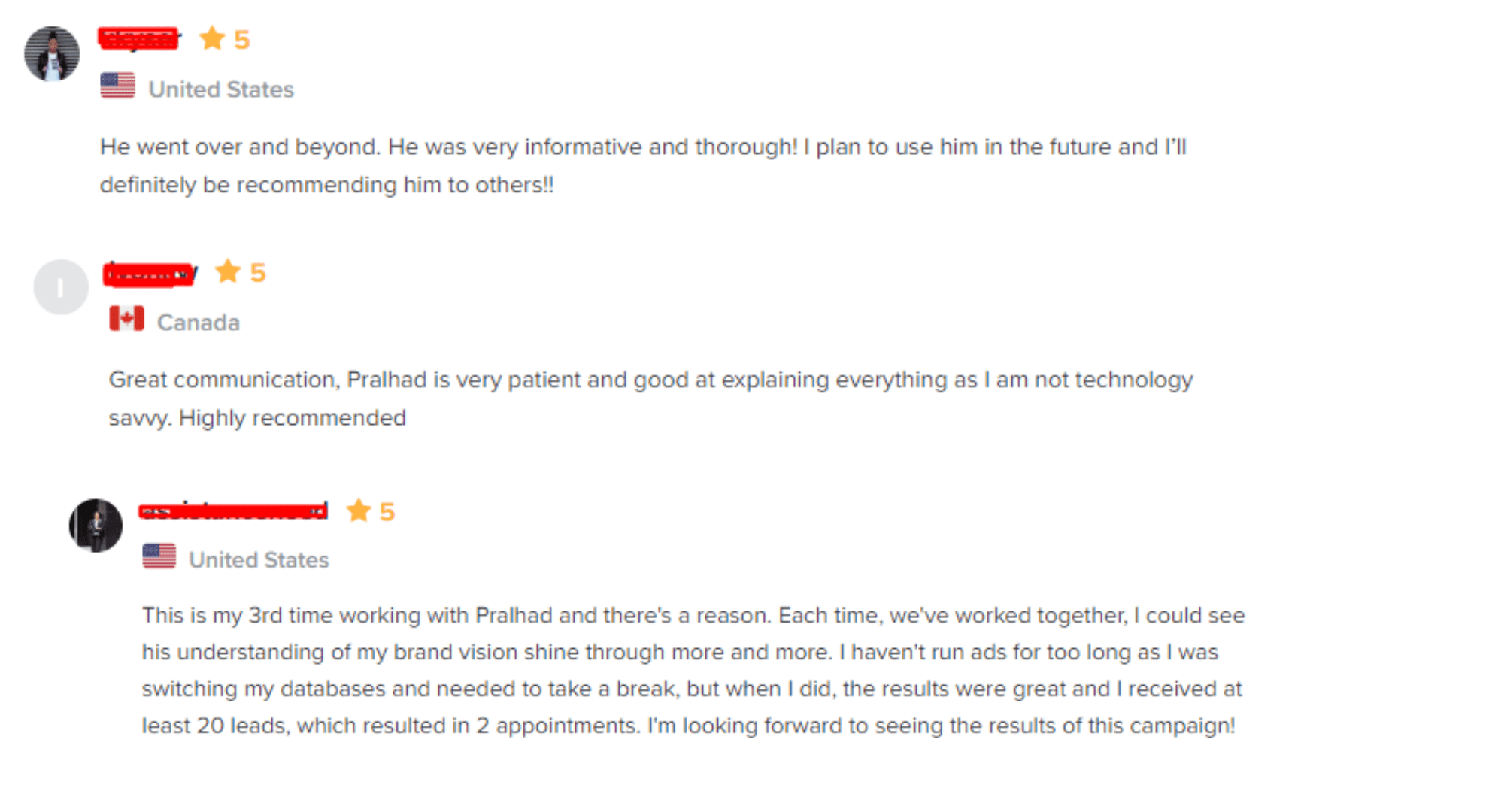 F.A.Q or Frequently Asked Questions
Will You Design The Ad Copy As Well?
Yes, I will take care of the designs required for the ads.
With How Much Budget We Can Start?
Well, it's all up to you. We can start with as little as $10 to thousands of dollars. But, I suggest to start with a small budget and test the performance for a week then take a big jump.
Do I need a Landing Page/ Website For This?
No, it is not necessary. We can collect the leads data on the Facebook ad platform itself. But, having said that if you have a website or landing Page we can send the people who have filled the form to your site and we can easily retarget them.
Will You Be Doing On-Going Management For The Ads?
Yes! I will help you launch the Facebook lead generation campaign that I have created but If you need me to manage it on a daily basis and optimize for better performance You Need to Spend a Little Bit Extra
What If I Don't Have A Facebook Page / Ad Account?
Don't worry, a lot of my real estate clients ran a lead generation campaign for the first time. I will create your ad account as well. But for Facebook Page you can message me so that I can create one for you.
Can You Do Any Other Lead Generation Or Only Real Estate?
I am totally focused on real estate but if you an interesting business for which I can generate leads. You can message me to discuss this.
Will There Be Any AB Testing?
Yes, that's where the magic is. We will create 2 variations of the ad to test which works the best.
How much experience do you have in Real Estate?
I have successfully helped 600+ realtors like you setup their lead generation campaigns on Facebook.
Let's Start Your Campaign
Proven strategies. Flawless execution. Measurable results. We build online authority one click-at-a-time.